Leave the camera at home and just enjoy it, that's what I learned. 
My shoulder is really sore after scuffling along carrying it in the dark for a few hours. I was after this awesome photo below which I did NOT take.
https://www.sciencefriday.com/articles/the-eerie-glow-of-blue-ghost-fireflies/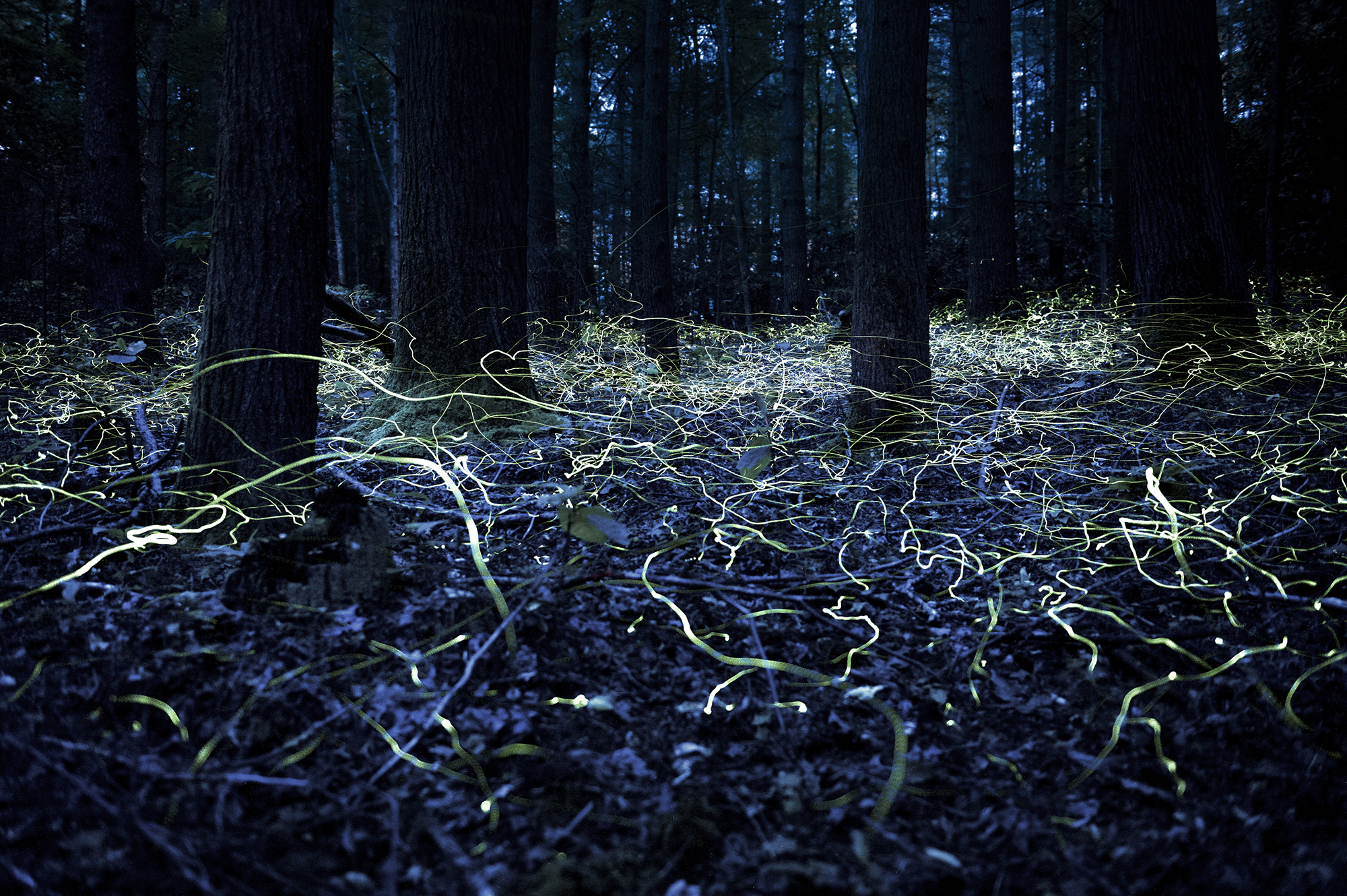 and after combining 8, 60-second shots, I came away with this. I should've done more shorter exposures or videoed.
When you're done laughing… Here's what else I learned:
Blue Ghost lightning Bugs/ Fireflies are Phausis reticulata. They are not "new" and they are in several southern states. The beetles like warm, moist, wooded areas with leaf litter and appear for a short apx 2 week time in late May to early June in spring but not in heavy rain or drought. The males fly, the transparent females are more like grubs. They are not really blue. My camera saw green. I saw a light blue or white. They stay "on" longer than the yellow-green lightning bugs in our own yard but they don't stay lit solid all the time. There is another kind of lightning bug found mostly in Tennessee that has synchronized lighting. That'd be a sight, but we won't be spending $42 to see bug butts glow again anytime soon, that's a lot of money for a few hours to walk in nature, even if the money goes toward a good place. BTW the gate at Cradle of Forestry really doesn't open until 7:30 and the tour doesn't start until probably 9pm even if they say to be there by 8:15. I may invite my self out to my Aunt and Uncles house and sit in their woods in the dark 🙂
Now we did see a lot of them and that is surprising since the males are about the same size as a grain of rice. Way prettier than what my camera captured and I am glad we went. The tours in the woods where there is no paved trail can trample the eggs and bugs, which has some places closing trails. They do not repopulate quickly.
It's hard to shuffle in the dark with 100+ other people and stay on a trail in the dark. Someone said they felt like a zombie in Walking Dead. I felt like I had been on a boat and felt slightly off. I couldn't see anything without my red cellophane covered flashlight and it hurts when you wrench and ankle at the edge of the pavement. I wish they painted some glow in the dark paint in a thin strip at the edge of the paved trail. Light clothing is recommended so you can see the other people right in front of you and they can see you.
I wish I'd:
taken a video instead of long exposure shots or just enjoyed it with my eyes
got a piece of the red cellophane for my LCD screen as the lightning bugs seemed to turn off more when my camera was on.
wore all light clothing
and watched or asked about some tips ahead of time
From when we were at Cumberland Falls I learned that people who can't see your tripod are more apt to bump into it so I bought glow in the dark rubber bands and put them on the legs. Don't know how long each band will charge in the sunlight but I liked my idea for nighttime tripod use. Think I should sell or file a patent for my idea?
There was a film crew there when we were there. I wish I'd ask when they'd be airing what they produced. http://realdigitalproductions.com/blue-ghost-fireflies/
Here are a few flowers I captured while we waited for the trail to open. BTW if any of you know of a good quick collage maker, like Picassa used to offer,  Please let me know.
If you enjoyed this post, my cover design or photography -please share. If you'd like to follow my blog, (which includes pet food recalls) and get an email when I post, just click on the "follow" button in the bottom righthand corner of the page or on the homepage.  You enter your email address, and you'll receive an email confirmation in return. I do NOT share email addresses. To learn more about my book cover design, photography or the books I've authored— my first homepage on this site has all the links.